Graham Potter believes fatigue and a tough schedule are partly to blame for Chelsea's poor run of form following their 1-0 defeat to Newcastle United on Saturday.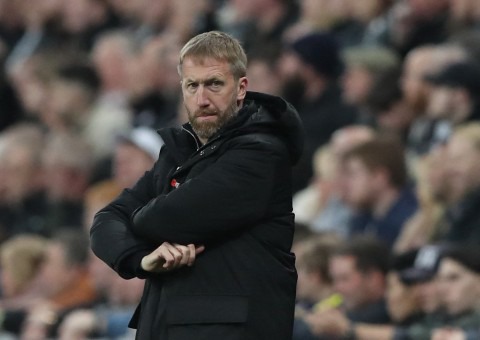 Chelsea has now lost three games in a row across all competitions for the first time since 2002 as a result of the outcome at St. James' Park.
Newcastle was able to win thanks to a brilliant goal from Joe Willock in the second half, while Chelsea struggled for much of the contest.
Potter's team is now eighth in the Premier Leaguestandings going into the World Cup break after the loss, eight points behind fourth-place Tottenham who have played one more game.
When asked if Chelsea's recent struggles are worrying him, Potter responded, "It's not great to not get results.
It's that straightforward, but I need to consider why that is and the circumstances we have faced. It certainly hasn't been simple.
We've played a lot of games, and a few key player injuries have shaken us up. Today is no different, as you can see. Just got through a really difficult moment.
"You face four of the clubs that, in terms of their own versions of themselves, are at their best in the Premier League, and that may push you as well." Even though we find it difficult to accept, we must attempt to move on.
Potter also thinks Chelsea's strained schedule and rising injury list are to blame for their problems.
It doesn't get much simpler, though. We had to pull him off at halftime due to losing Ruben when we did and the Azpi suffering a little bit,' POtter remarked.
While I thought the first half was evenly matched, they started the second half better than we did. It's not easy playing against a team that is in a really good moment and playing with great intensity.
We had to make a small adjustment, and we did. Conor had a chance, Pope made a terrific stop, Newcastle scored, and we had to exert ourselves once again.
We made too many unintentional mistakes, in my opinion, to maintain any real good quality and pressure. Again, kudos to Newcastle; they're performing well and are at a great time. You can probably tell the difference between our hectic period and the schedule of one game per week.
'I believed there were some prospects. I thought we entered some spaces quite well, but then we made a sloppy pass, which is not typical of us. There were too many unforced errors.
"I have to defend the players in terms of exhaustion and what we've dealt with, but Newcastle doesn't make it easy for you," he said. They clearly rank among the Premier League's top defensive teams, therefore praise be to them once more. For us, it was a challenging game.