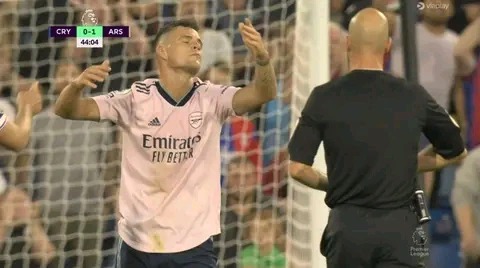 Granit Xhaka is the first player of the new season to be cautioned by an official with a yellow card. Crystal Palace was the opponent for Arsenal's first game of the new season, which took place last night. The fact that the gunners are listed first in the alphabet guarantees that they will play first at the beginning of each season.
After going down to the ground, Granit Xhakawas given the first yellow card of the season.
After being challenged by a player for Crystal Palace, Xhaka dove to avoid the contact.
However, the referee had the impression that the challenge was insufficient in comparison to his dive.
Since Xhaka is a frequent recipient of yellow cards and even red cards, this was not a very shocking development.
Do we say that he picks up just where he left off the previous season? … Oh, absolutely, of course!
Ben White would eventually end up receiving his second caution of the game and of the season later on.
Nathaniel Clyne was issued the third booking for his infraction.
Gabriel Martinelli was the one who opened the scoring for Arsenal in this new campaign. That occurred in the early portion of the game.