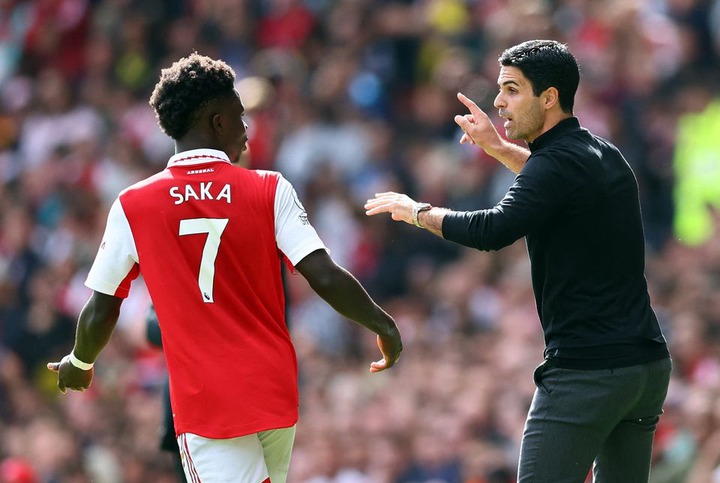 Arsenal manager Mikel Arteta gives instructions to Bukayo Saka
Reuters, October 21 – In a 1-0 Europa League victory over PSV Eindhoven on Thursday, Arsenal manager Mikel Arteta justified his decision to not rest winger Bukayo Saka, stating the finest players in the world are expected to perform at their peak while playing once every three days.
Granit Xhaka's second-half goal gave Arsenal a place in the Europa League knockout rounds, and Saka was once again on the team sheet. Saka has started 12 of the Premier League club's 14 games in all competitions this season.
Arteta told reporters, "He got a kick, he was limping a little bit, but hopefully he will be okay." "Take a look at the best athletes in the globe. They play 70 games, one every three days, and when it counts, they win.
You must have the ability to accomplish it if you want to be at the top. And I believe we are making a serious error if we start to introduce anything new into a young player's mentality. They should be knocking on my door and expressing an interest in playing and winning games.
"No fitness trainer in the world will ever claim that I cannot do something because I have seen it done. Players who score 50 goals do not participate in 38 games during the season."
With four wins, Arsenal leads Group A with 12 points. PSV is second with 7 points, and Bodo/Glimt is third with 4. FC Zurich is still pointless.
On Sunday, Arsenal, who now sit atop the Premier League rankings with 27 points, will visit Southampton, who are currently in 14th place.