In recent English Premier League history, Arsenalhave been the club with a high reputation for allowing their best players to leave if a reasonable offer arrives on the table. Robin Van Persie, Alexis Sanchez, and Thierry Henry are a few of the names in this category.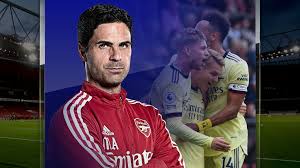 Photo credit: skysport
Below is a list of three players who could leave Arsenal in the coming transfer window.
– William Saliba
Arsenal central defender William Saliba is yet to sign a new contract at the Emirates and Paris Saint-Germain have become highly interested in signing the French defender. William Saliba's current deal runs out in 2024.
According to Ben Jacobs, Paris Saint-Germain could affect the player's decision to not sign a renewal contract as the French champions are highly interested in acquiring the Arsenal centre-back's services.
The 21-year-old William Saliba has established himself as a mainstay for Mikel Arteta since returning from loan at Marseille.
– Bukayo Saka
According to football.Chelsea are preparing a massive contract to entice Bukayo Saka away from Arsenal and onto their books.
Arsenal have been handed a subtle shock by Todd Boehly's recent interest in Bukayo Saka. Mikel Arteta has revealed that Bukayo Saka and the club are doing everything possible to keep the player.
– Gabriel Martinelli
Gabriel Martinelli is another player from Mikel Arteta's Arsenal team that could leave the club in the coming transfer window. Chelsea and Real Madrid are monitoring the situation of the player, who has become a regular starter for Arsenal.
Gabriel Martinelli is currently valued at €40 million and an offer of around €60 million could be enough to convince Arsenal to allow the 21-year-old leave.
Opinion: Share your thoughts about these players and comment on the name of the player who is likely to leave Arsenal.