In the course of this article, we will be looking at the 2 strongest back three that Chelsea can use to prosecute their opening game against Everton.
First Strongest Back Three That Chelsea Can Use Against Everton
The first strongest back three that Chelsea can use will consist of Sarr, Koulibaly and Azpilicueta.
Sarr can make the lineup because of his fine display in the preseason. Sarr is good with interceptions and will feature on the left center back position.
In the middle of the 3 backline set up, will be Koulibaly. His wealth of experience from his playing days with Neapolitan help ward off goal scoring threats of Everton FC. He is a fast paced defender, and a good ball passer.
If Tuchel is looking forward to building up from the back, Koulibaly is a player that fits the role. One the right center back role will be Azpilicueta.
Azpilicueta is a defender that can play in more than one defensive position.
However, as an aging defender, the Spaniard is mostly used by Tuchel as a center back.
Just like Koulibaly, Azpilicueta has a wealth of experience that he can bring to the table and give Chelsea a solid shape against Everton.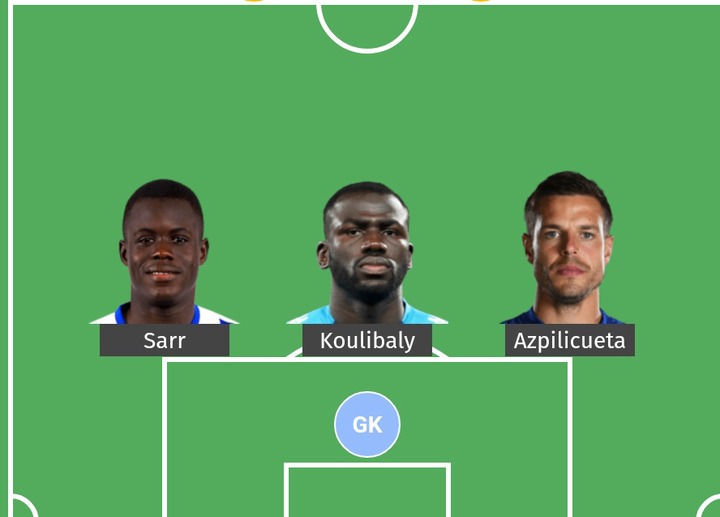 Second Strongest Back Three That Chelsea Can Use Against Everton 
Thiago Silva was not mentioned in the first strongest back three because his is the oldest player the Chelsea squad.
Thiago Silva alongside Ampadu and Chalobah, will consist of the second strongest back three that Tuchel can use.
On the right hand side of the back three will be Chalobah, on the center will be the aged Thiago Silva, and the left will be the young Ampadu.
Thiago Silva will be in the middle of two young center backs, because the middle does not need the input of speed.
Thiago Silva can compensate for not being fast with his football IQ, and positional intelligence.
Also worth noting is that Thiago Silva is the kind of defender that is accurate with his tackles and mostly wins aerial duels.
Thiago Silva can use his experience to look above his shoulder to adjust his movement and maintain agility while marking Everton players that Lampard will deploy.
In addition, Thiago Silva's ability to read the game will make it difficult for Everton attackers to outsmart him.
Also worth noting is that Thiago Silva is good at covering his fellow center backs (Ampadu and Chalobah); so he can still come across the right or the left hand side to help and still be comfortable.
Both Ampadu and Chalobah put together have a good build. They are both nimble and can stay on their feet in combating with opposition attackers.
Their fast pace can be used to deal with Everton attackers such as Anthony Gordon, McNeil and Alex Iwobi.